Source: Alpine protected areas database, ALPARC
Every year, ALPARC layouts the most up to date map from its Alpine protected areas data base, based on the collection of geographic data from all over the Alps. If you want they we include your protected area's limits, please feel free to conact us at info@alparc.org.
Below you will find thematic maps that were produced in our activities.
Thank you.
---
Resources linked to the article

Mapping and listing of all the organisations which are member of the ALPARC association, as well as the protected areas managed by these organisations.
Thank you for contacting us at info[at]alparc.org if you notice any mistake or missing data!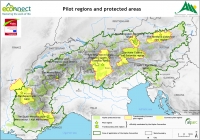 Here, you will find thematic maps